Dharshika & Madura
 TAMIL HINDU WEDDING PHOTOGRAPHY IN LONDON


Dharshika and Madura's wonderful Tamil wedding was certainly one to remember. Full of colour and attention to detail, it was a delight to provide their Tamil wedding photography. The day itself was held at Parklands, Quendon Hall and was a fitting venue to host such an event.
Quendon Hall sits on the Hertfordshire border and provides a beautiful picturesque setting for weddings. It has won many awards and is offered exclusively to the wedding party for the day. This arrangement really allowed Dharshika and Madu the freedom to truly customise their day. The beautiful light that the marquee showcased would ensure that the Tamil wedding photography would be a joy to capture.
As with most Tamil celebrations it was an early start to the day. The groom made his entrance into the venue alongside his brother-in-law amongst a cheering crowd. Once the morning groom rituals had completed, it was time for Dharshika to make her entrance. The crowd waited eagerly in anticipation. Her bridesmaids led the way towards the stage all sporting beautifully coloured saris. The ceremony culminated with the tying of the Thaali, the most auspicious moment of all Tamil Hindu wedding events. My heart begins to race with adrenalin at this point in anticipation of capturing such a beautiful moment. Needless to say that it was – it was a great day!

It was clear to see that these two had a great connection. I always endeavour to convey that through the images I take. The time we spent together during our couple shoot provided some quiet time away from the festivities. It was a chance for us to build on what we had learnt during our pre-shoot to obtain some beautiful portraits.
Tamil Hindu weddings typically have a lot of sequences involved within the ceremony, but both Dharshika and Madura took to it all so naturally. It was a pleasure to document their colourful event and provide my Tamil wedding photography services.
Below are some of my favourites taken on the day. I hope you enjoy the highlights.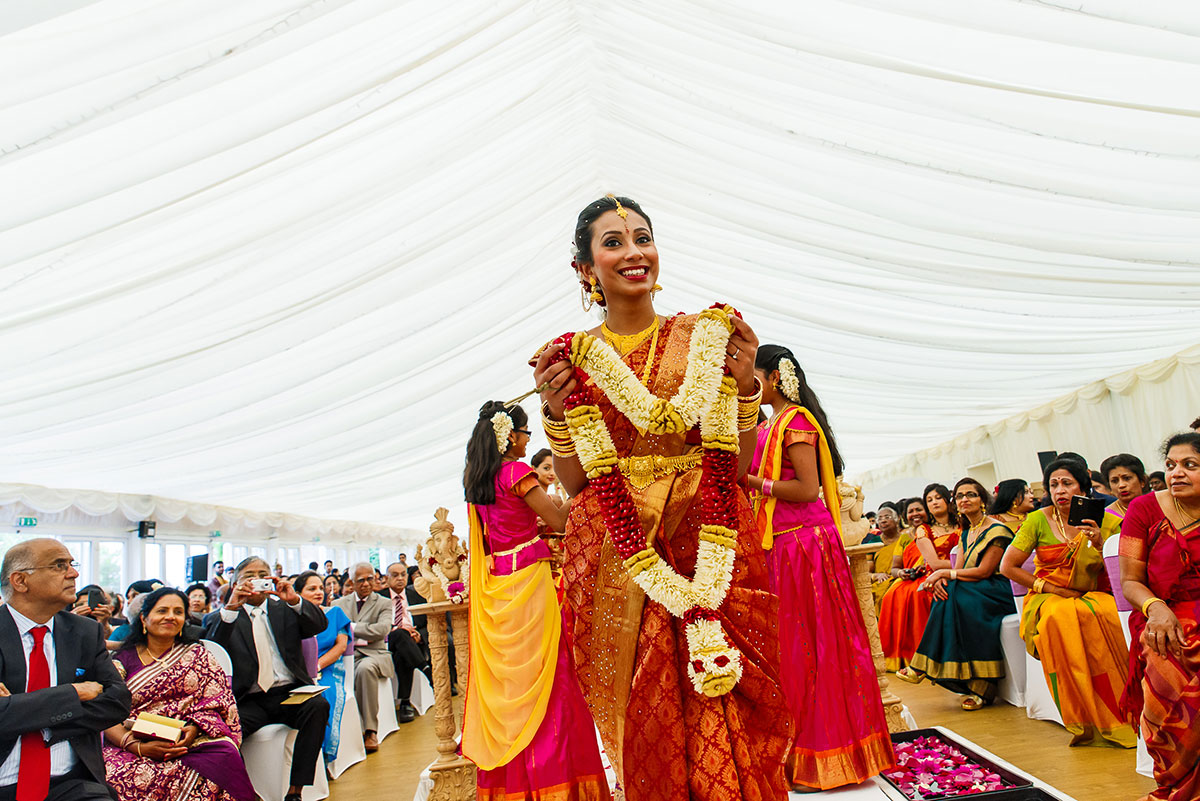 If you share the same high regard for timeless moments being captured in the most creative of ways then I would love to hear from you. Do feel free to contact me on [email protected] or call on +44 (0) 7835 58 22 58. I look forward to hearing more about your Tamil wedding photography plans.